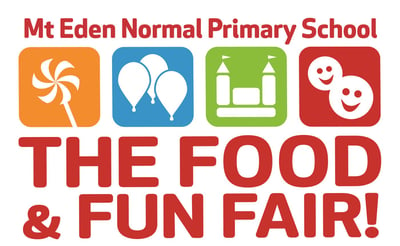 Mt Eden Normal School
11am - 3pm, Sunday 17 March, 2024

Oct, 2023 update
During a discussion at the Term 4 PTA meeting, where we reviewed the volunteer sign ups - we have concluded that we have not been able to fill enough of the critical roles to run the Food and Fun Fair in 2024.
The PTA will review the events that have been successful in 2023 (a year with no fair) and determine what kind of fair or festival event could be run in the future.
If you had signed up to help - thank you for your help, we will be in touch with how you can help when a feasible event is determined.
Food & Drink, Games, Rides, Treats, Entertainment, Craft, Clothes, Books, Prizes, Household items, treasure & more
The fair is so widely talked about in the community - and that's because of the volunteers and coordinators that help pull off such an awesome day. Not only does the event raise valuable funds that contribute towards school resources, but it's such a great social fun day for the kids, parents and community of our Mt Eden neighbourhood. The 2021 and 2022 event secured a large contribution to the funding of our new outdoor canopy over the top courts.

The MENPS Food and Fun Fair 2024 date has been set for Sunday 17th March and preparations are now underway amongst the core team - please get in touch sign up as a coordinator for stall or email us with any questions at all menpspta@gmail.com
List of available roles:
Fair manager – Pam Clifford
Fun coordinator –
Second-hand stalls coordinator –


Sponsorship

– Rayni Chung


Site coordination

–
Food coordinator –
Donation categorising – Chantal Brunner
Finance – Paula Tran and Linda Waddington-Miller
People power coordinator – Chantal Brunner
Food
Cakes – Georgia Cervin/Sophie Burbery
Drinks & Ice-Blocks – Anjana Rele
Candy Floss – Rukshanie Fernando
Gourmet Burgers – Magno Souza
Sausages – Vanessa Matthews
Dumplings –
Samosas –
Bottles Stall Coordinator –
Fun
Lucky & Lolly Jars – Rayni Chung & Grace Konrath
Junior Bouncy Castle – Jess Pilkinton
Mission Impossible –
Giant Slide – Marjorie Pook
Jousting Bouncy castle – Suze Heinrich
Face Painting – Chelsea Chen
Dunking Machine –
Money Golf –
Police Car –
Sandpit Dig –
Soccer Shot –
Firetruck liaison –Chantal Brunner
Stalls
Clothing –
Books – James Miller
Jumble Sale – Virginia Brown, Rachel Watts
Toy Stall Store Coordinator - Melanie Woollard
First into the Fair night event coordinator - Sarah Eason
Wristband sales + first aid –Sarah Eason
Lost kids & sunscreen tent -
Year 5 Sustainable Enterprise – Year 5 Team Leader
Honey Stall –
Operations
Pre-Fair set up - Van Roon Martial Arts + parents
Electrical –
Advertising and Signage – Josie Easingwood
Chinese Parent Liaison Support –
Environment/waste management –
Graphic Designer –
Newsletter/Website – Pam Clifford
OFFICIAL (FUN) SPONSOR (1 available)
We are after ONE official sponsor to contribute towards the cost of all our FUN stalls: bouncy castles, giant slides, water wheels, etc. The total cost for our fun stalls is approximately $5,000-$7,000.
This event will be named after YOUR COMPANY.
PARTNERS (4 available)
Become a partner of our fair by covering the cost of a stall. These cost an average of $500 per stall. You get to pick which stall to brand (e.g. sandpit dig stall).
FRIENDS (unlimited)
We would be grateful for any donations of cash or gifts to go towards raffles and silent auctions.